Central Iowa Chapter Lunch Meeting
Nov 3, 2021 11:30 AM - 01:00 PM
Greater Des Moines Botanical Garden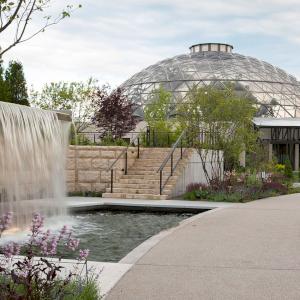 MEMBERSHIP MEETING OF THE

CENTRAL IOWA CHAPTER
MECHANICAL CONTRACTORS ASSOCIATION OF IOWA, INC.
WEDNESDAY, NOVEMBER 3, 2021
GREATER DES MOINES BOTANICAL GARDEN
909 ROBERT D RAY DR.
DES MOINES, IA
Schedule of Events:
11:30 a.m. to 1:00 p.m.     Luncheon Meeting
Topic:  Iowa Employers & the Great COVID-19 Vaccine Mandate Debate  Vaccine mandates have always been a source of controversy but even the most experienced public health law experts have been surprised by the magnitude of debate surrounding employer COVID-19 vaccination requirements during the global pandemic. On one side, workers are urgently advocating for universal vaccine and mask mandates to protect them from on-the-job COVID exposure. On the other, similarly passionate workers argue that vaccines endanger their health and safety, impede their ability to do their jobs, and trample their rights. This dichotomy in beliefs about the role of vaccine mandates in the workplace leaves organizations vulnerable to administrative scrutiny and litigation regardless of the positions they take.
This session will summarize the critical developments and compliance issues surrounding COVID-19 vaccine mandates in the Iowa workplace. Emphasis will be on how to balance competing compliance obligations under: OSHA/I-OSH; vaccine mandates in President Biden's Path Out of the Pandemic Action Plan; medical and religious objections; and the implications of Iowa House File 889 banning COVID-19 "vaccine passports" and verification. Practical strategies for managing a workforce that is deeply divided about COVID vaccines will also be addressed.
Presenter: Denise M. Hill, JD, MPA   Associate Professor Denise Hill, JD, MPA brings 25-years of health care legal, policy and mediation experience to the classroom, practice of law, and community.  In addition to teaching fulltime at Drake University, she continues to mediate and practice health and employment law with the Whitfield & Eddy law firm in Des Moines, Iowa. Denise is a sought-after speaker, author, and thought leader on a variety of contemporary health law and ethics topics. Most recently she authored Vaccine Mandates in the Health Care Workplace: A Legal Primer for Employers published by the American Health Law Association. For many years Denise has advised health care organizations, written, and presented on public health and vaccination law issues at the state and national levels. For example, Denise negotiated on the Public Health Disaster Emergency provisions in the Iowa Code. She brings this expertise to bear on the current COVID-19 global pandemic.
Contact:
Jennifer Adkins
Email Me
MCAI

Membership

Become an MCAI member today and be part of the mechanical contracting industry's premier association.